El Más de Xetà
Multisport rural complex

The Hamlet of Xetà is located in Llutxent, in the Vall d'Albaida. Besides accommodation, we offer a variety of activities, such as a farm - school, an ethnological museum, multi-sports area (zip lines, a Tibetan rope bridge, a rock climbing wall, an archery range), horseback riding, pony and carriage rides, riding lessons for all levels, and group field trips, summer camps, custom activities, activities for people with disabilities, sightseeing tours, riding contests, etc.
Our activities can be performed individually or as a group. We have classrooms for meetings, courses and all kinds of activities. We also have a restaurant in which we mainly serve traditional Valencian cuisine.
Otras actividades organizadas por la empresa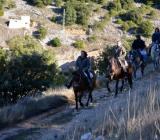 A peaceful way to enjoy nature and the scenery whilst travelling with groups or family. The Valencia Region, with its long equestrian tradition, offers may opportunities of carrying out horseback...