Birdwatching Spain
Customized tours for bird watching and wildlife observation

We offer customized tours for bird and wildlife watching in the areas of greatest natural wealth of the Valencia region. We also offer educational activities for schools and scientific bird ringing workshops. Excursions and activities are conducted by a local guide, in Valencian, Spanish or English.
Otras actividades organizadas por la empresa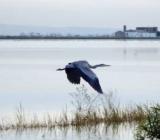 Pick up the binoculars and fall in love with the exciting world of birds: observe and photograph them and enjoy their habits, shapes and sounds.
The Valencia Region offers a wide variety of...