Tururac
Live outdoor life, give in to the thrill and let yourself be guided by experts in active tourism in Alicante and Castellón.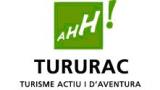 Our company is born from the will to offer our services as a leisure bonus for all those who like to spend their free time enjoying nature.
We wish to share our passion and respect towards the mountains to all our clients, revealing surprising spaces and aspects that are both grand and simple.
Our goals: to ensure maximum satisfaction for our customers and to reveal amazing, unexpected and unknown natural areas to their senses.
Our hope: to maintain the balance between the management and use of natural resources and the conservation of what we love.
We work in Alicante and Castellón. We are also active in the L'Orxa and Navajas Mountain Biking centres.
Otras actividades organizadas por la empresa