La Teja Azul Restaurant, a classic in Villena
Gastronomía, turismo cultural, ocio y diversión
Restaurante La Teja Azul
678 461 247 + 34 96 534 82 34
Offer description:
Rice dishes are the specialty of the La Teja Azul restaurant, and its rice with rabbit and mountain snails, cooked on a natural vine wood fire, stands out in particular.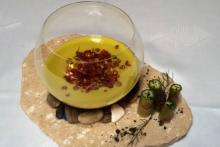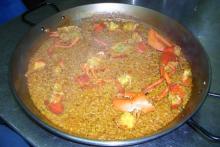 At La Teja azul an unforgettable evening is all but guaranteed. This restaurant is a classic in the town of Villena, in Alicante, where it is famous for its delicious rice dishes and its ample wine list, among which the wines from the Alicante Appellation of Origin stand out in particular, which are bound to delight even the most demanding palates. Moreover, La Teja Azul provides a pleasant intimacy due to the way the tables are distributed across several private dining rooms, making it the ideal location for working meetings, family celebrations or romantic dinners.

If your inclination as a 'gourmand' is coupled with a taste for cities packed with history, Villena is the ideal destination for you. The centre of this town, surrounded by vast agricultural fields, stems at the foot of the old castle, which was originally built by the Arabs. After the Reconquista it became the capital of a large earldom that would have an influence on the history of the nation. It is a land of contrasts, halfway between the Mediterranean and the central Iberian plateau, whose beautiful heritage oozes History with a capital H.