Rural tourism in the holiday centre El Más de Borràs, Villahermosa del Río.
Turismo rural, ocio y diversión, ecoturismo
Segment:

Genérico
Familias
Escolares
Grupos jóvenes
Offer description:
A holiday and country tourism centre located in one of the most traditional farmhouses of the mountain chain in Penyagolosa, the highest and best preserved natural landmark in the Region of Valencia.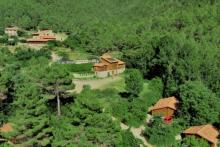 El Más de Borrás is located 1,000 metres high, in the inner part of a forest area protected because of the enormous natural heritage which is still preserved in fantastic conditions, at the confluence of the Region of Valencia with Aragon, and at the foot of the Penyagolosa peak, the highest peak of our counties being 1,814 meters high.

It has a perfect location, as it is only 2 km from Villahermosa del Rio, one of the municipalities which make up the Touristic Commonwealth of the Maestrazgo, in the path marked by the European long way trail GR7.

As every year, more than twenty editions now, in September they hold mycological days in el Más de Borràs in the Penyagolosa Natural Park . The end of the days has a gold brooch: a paella de bolets (mushrooms). Of course, made with the ones you have collected.

In addition, this is a month when multitudes of activities are offered such as excursions to river Carbo, Cedraman, the Iberian settlement and Barranc de Aurons, to the Cova Quina and the abandoned village of Bibioj. For younger guests, zip line, archery, hanging bridges, climbing and adventure circuit.
Optional services:
Villahermosa del Rio is located at the foothills of the Muela with steep and quiet white streets. A large square welcomes us with the impressive building from the 18th century of Corinthian style. In the interior of the basilica, we find some magnificent Gothic and Renaissance altarpieces considered the best of the Valencian pictorial art from the 14th and 15th centuries.