Hotel Restaurant El Jardín Vertical
Ecoturismo, gastronomía, turismo cultural, ocio y diversión
Hotel Restaurante El Jardín Vertical
964 329 938 / 677 472 396
Offer description:
Enjoy the comfortable atmosphere and the inspiring landscape of valleys of almond trees and thousand-year-old olives where you can see at the far end the beauty of the imposing Penyagolosa. Will you come?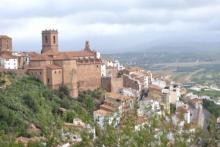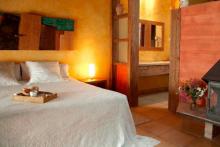 Vilafamés (Castellón), one of The Most Beautiful Villages in Spain, houses the Hotel Restaurant El Jardin Vertical. A mansion from the 17th century built with red stone from Rodeno. A vine covers the very high façade of stone of this delighted house, of mediaeval air, which stands in front of an unusual landscape.

El Jardín Vertical is a house with five floors which has been restored and fully refurbished. It has eight wide rooms, two rooms for social games, the study or the work; a terrace with excellent views and a comfortable canteen-restaurant. In the inside, it is remarkable the contrast between the ancient corners and the contemporary beauty of its decoration, and the silence that covers the place.

The restaurant is situated in the ancient stables of this mansion. Enjoy your lunch or a candle lighted dinner in its terrace built on the ancient mediaeval wall of Vilafamés and whose high walls are covered by a vine as if it were a vertical garden. Simply irresistible!

The kitchen is based upon traditional recipes, with a touch of creativity and with products from the neighboring area. Dishes to eat with spoon, rices melosos, the 'tombet', the croquetas and creative dishes designed with a lot of tenderness. On the list of wines, you will find references from the Route of the Wine Vilafamés-Les Useres.

Walk along Vilafamés and his ancient town centre made of narrow streets and mediaeval alleys which lead you towards the top, its castle. Recommended visits: the Castle, the Church of the Assumption, the Roman path, the Arab zone The Quartijo and the Museum of Contemporary Art. Very near from here, you can find the Iberian village of Els Estrets-Racó de Rata.