The Vertical Garden, the best views of Penyagolosa
Turismo rural
El Jardín Vertical
Tel. +34 964 329 938
Offer description:
A unique accommodation, wrapped in nature and located in the historic center of Vilafamés. Impossible to miss.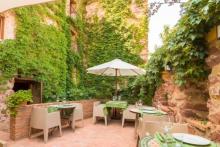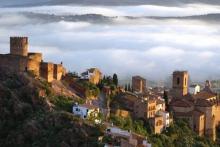 Wrapped in nature, feel its freshness and aroma, be part of it. Those are some of the sensations you can feel in the Vertical Garden, situated right in the old town of Vilafamés, one of the most beautiful villages in the province of Castellon. It is a five-storey house, built in the seventeenth century and completely restored, perfect for spending a few days relaxing and disconnecting.
It is care to the smallest detail so that all the rooms are cozy and comfortable. The Vertical Garden stands more than 12 meters above the medieval walls of Vilafamés, so it comes as a vantage point to watch the magnificent views of Penyagolosa.
Vilafamés is one of the jewels of the interior of the province of Castellon. A corner to discover and to get lost in its streets, its castle and its ancient walls, conquered by James I in the thirteenth century, or at the Museum of Contemporary Art of the town. And do not miss the Roca Grossa, a natural geological formation, located in the middle of town, which impresses the visitor.
Prices and more offers:
Start date: 05/09/2016
End date: 07/11/2016