Adventure in Valencia, thy name is Kalahari
Turismo activo, actividades náuticas, ocio y diversión
Segment:

Grupos jóvenes
Familias
Parejas
Escolares
Kalahari Aventuras
606 414 985
Offer description:
Kalahari is a company based in Venta del Moro that offers multi-adventure services, outdoor training and trips to exotic countries.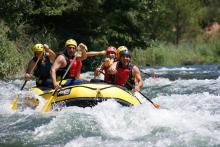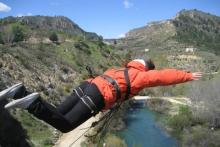 Kalahari Aventuras is a factory where the experiences of a lifetime are crafted. As pioneers who introduced sports new to the Valencia Region, including River SUP (stand up paddle surf), canyoning, rafting, hydrospeed and alpine kayak, among many others, its founders still emanate enthusiasm by the truckload. To this we might add that most of the sports carried out by Kalahari are set against the beautiful backdrop of the Hoces de Cabriel. Get ready to have some serious fun.

Their philosophy is based on people, their skill is safety and responsibility for the well-being of the group, and their ultimate goal is to allow you to enjoy adventure sports. How? Through their mountaineering spirit, their camaraderie, fellowship, good humour, controlled risk and nature. Kalahari is based in Venta del Moro, and apart from multi-adventure services, they also offer outdoor training and trips to exotic countries. Their monitors are constantly on the hunt for new trails as well as original sports and activities. If you try once, you'll be sure to come back.