Restaurant Pica'p Bar
Gastronomía, ocio y diversión, ciudades
Offer description:
It is not only about food, it is much more. Pica'p Bar is nicely served beers and it is a wide choice of wines with the ones from this land like main stars. And it is also the place for conversations over meals and nights out in Valencia with impressive cocktails.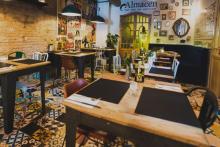 The kitchen of Pica'p offers an extensive variety of products in a Mediterranean menu. Salads and cold entrants like the lomo of smoke sardine or the glass of sepia with mayonnaise. Fried balls, toasts, tables and mini hamburgers. And specialities like the canelones of codillo, ajoarriero requenero or the crujiente of rabito of bull. Like this, we can continue telling the whole menu inspired in home-made recipes and emphasizing the flavours from the Valencian land with tapas, all of it will amuse you to the limit. The result: a touch of modernity, demanding quality, searching for the best ingredients and the careful preparation. Yummy, yummy!
The decoration of the restaurant is eclectic with industrial vintage pieces. Each corner offers a small surprise so that we feel like home. Pica'p offers a unique atmosphere and nights which go by with the best sweet soul played in vinyl records. Shake your body!
Optional services:
Valencia is unique day and night. Approach to the centre walking and stop by in the Town Hall Square, pay special attention to Post Office building as well as the Town Hall itself, go on until the Plaza de la Reina, look for the Market, the Central Market and enjoy the joy of the Mediterranean character.