Marina Beach, the fashionable space in Valencia
Ocio y diversión, gastronomía, playas y calas, actividades náuticas
Marina Beach Club
961 15 00 07
Offer description:
Welcome to Marina Beach in Valencia! Located in the Marine Real Juan Carlos I, this gastronomic and leisure space has received more than one million people who have devoted themselves to enjoy the pleasure of the Mediterranean Live.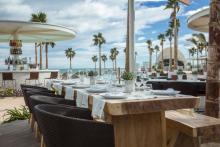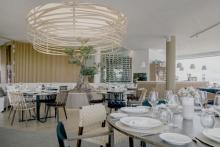 Marina Beach Club of Valencia houses a restaurant, lounge, pool, chiringuito, nautical sports; it also means events, music and much more. We will go through the offers of this complex below.

Eating while you enjoy the best sight. The main building houses the Restaurant Marina, with a circular design and with wide windows open to the beach of Las Arenas. His terrace opens to the sea, a space with charm for those who love eating in the open air, with spectacular views over the beach. Dishes with a marked Mediterranean character and also oriental kitchen with a complete menu, Tatami Japanese Food.

Enjoy a dream-like afternoon the Lounge zone. From mid-spring and until the beginning of autumn, you can have a wonderful time from early hours in the morning in the swimming-pool infinity. This space surrounds the swimming pool, which offers aquatic sun loungers, hammocks under sun-shades, day-beds and tables. The infinite swimming pool is one of the big appeals of Marina Beach Club, where you can refresh feeling if you were bathing in the Mediterranean. Besides, the Lounge offers the best option for the afternoons by the sea in Valencia: a dream-like place, good atmosphere, music and cocktails; livened up by a life DJ all day long, it has turned into the referent space for the evening leisure in Valencia.
Optional services:
And in the Club, there will be great fun. The characteristic dome of the complex houses a multipurpose space with a stage for life performances, concerts and international DJ's. Without any doubt, the colophon for a perfect day in Valencia. This is a cosmopolitan city which offers a wide variety of plans, go for them!