Blue Marina & The Roof in Valencia
Playas y calas, ciudades, ocio y diversión, gastronomía
Segment:

Genérico
Grupos jóvenes
Parejas
Blue Marina & The Roof
963 118 787
+34 672 693 699
Offer description:
The Marine of Valencia is fashionable. Take advantage of the autumn sunbeams, the beautiful dusks in the port and the starry nights by the Sea. Blue Marina & The Roof will set the music, the cocktails and the views. Do you want to come?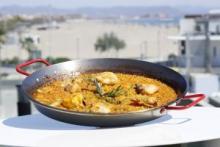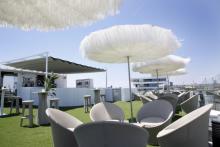 If you want to go for long walks by the seashore and you like the architectural beauty of the port of Valencia, pay attention. We will tell you about this place. The place where you can spend time in family, with friends or with whom you feel like. Touching the sea with your hands and only five minutes away from the city.
Blue Marina The Roof is a space created so that you can disconnect from the daily stress in a terrace with impressive views and accompanied by innovative cocktails, delicious snacks (do not miss the selection of hamburgers) and the soft marine breeze. Enjoy a wonderful musical selection from chill-out music for those looking for some calm, to the rhythms of the best Dj's or live concerts, for those wanting to dance late into the night.
Optional services:
Do you want to know interesting things to do in Valencia? We do not know what to begin with but here you have an appetizer. A boat tour by the Natural Park of The Albufera, climbing the 207 stairs of the Miguelete and get fascinated in the Market of the Silk. You will surely come back!