El Almendro y La Montaña, lodgings fit for a movie star in Tàrbena
Turismo rural, gastronomía, ocio y diversión
Segment:

Parejas
Senior
Genérico
Alojamiento rural El Almendro y la Montaña
+34 965 88 41 75 / +34 637 87 19 35
Offer description:
The recovery of a former film theatre has led to its transformation into a charming house that is the perfect place for a romantic escapade or to wind down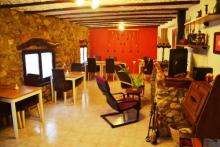 The El Almendro y La Montaña rural lodgings are a small guesthouse located in the heart of the mountains of Alicante, in the town of Tàrbena. Only a few steps away from the spectacular beaches of La Marina, El Almendro y La Montaña provides you with the perfect place to dream and wind down.

This project has recovered the former village cinema to transform it into a small garden with a swimming pool in which you can enjoy good food washed down with fine wine. It is a house packed with history that is designed for a romantic escapade, to unwind from your daily routine, enjoy the town's natural surroundings or simply to rest.

Tàrbena is a privileged destination in the Marina Baixa region. Located in an imposing valley, it offers a broad spectrum of options to travellers seeking rest and adventure lovers alike. From here you can walk in the steps of Iberians, Romans and Arabs whilst enjoying authentic Mediterranean cuisine with the full flavour of locally-grown crops and traditions.

It is worth visiting El Almendro y La Montaña when the almond trees blossom. All of Tàrbena becomes coloured in white and pink, offering a natural spectacle that will leave you speechless.