Plunge into the diving world with Anthias Santa Pola
Actividades náuticas, ocio y diversión
Anthias Santa Pola
+34 691 696 601
Offer description:
Anthias is located inside the Nautical Club of Santa Pola and it is one of the favourite centres for diving in the Marine Reserve of Tabarca and its surroundings. Will you dare with a plunge into the diving world?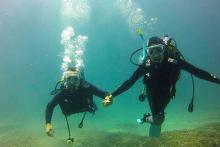 Costa Blanca has one of the most singular points for diving as it is the first marine reservation in the country: The Marine Reserve Island of Tabarca. The centre Anthias for diving in Santa Pola is situated in the dock of poniente next to Gran Playa. They have a privileged location in the port of Santa Pola and the vessel for diving is situated only two metres away from its facilities.

Some of the activities you can practice with Anthias are snorkel, apnea and guided visits to the island of Tabarca and his marine reserve with boat trip from the coast of Santa Pola. Plunge and initiation dives (in the sea with boat trip or in a swimming pool). And if you are already an experience diver, enjoy daily immersions inside the reserve, with all the necessary permissions.

What views will you enjoy? In simple immersions, up to 8-10 metres, you will feel as inside a real aquarium full of life. We will be astonished by the artificial reefs more than 24 metres big with big mere and banks of barracudas or ships sunk more than 30 metres deep. Discover the wonderful marine ecosystem of the first Marine Reserve in Spain and dive in the undersea world of the Cape of Santa Pola, the greatest fossil reef in Europe!

Santa Pola is surrounded by the Natural Park of Las Salina, la Sierra and Cape of Santa Pola. Some points of tourist interest are the Castle-Fortress, the Torres Vigía and why not, its fantastic beaches and coves.