Horse therapy in Alicante
Turismo activo, ocio y diversión, gastronomía, ecoturismo
Yeguada Salinas
609 967 497
Offer description:
Yeguada Salinas has been devoted to the horse breeding, training and boarding in the Alicante village of Salinas for more than 30 years. One of the most remarkable services is the hippotherapy, which is used for treating numerous physical, mental and sensorial disorders. Not only does it improve the agility and the movement capacity of patients significantly but also their self-esteem and their communication with others.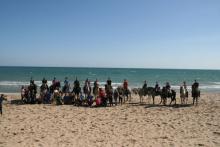 This therapy is the perfect plan to escape from routine. You can go deep into Salinas, its natural areas and its architectural and cultural heritage too.

Salinas is located in an endorheic basin, which does not allow outflows to the sea. It is surrounded by a mountain range with a maximum altitude of 1,100 metres (3,600 ft). Salinas mountain range, Rincón de Don Pedro, Umbría mountain range, Cabrera mountain range and Camara mountain range shape the relief surrounding this village.

Not only for nature lovers, this is also a place for those who are interested in history, those who are supportive of the active tourism and those who are staunch supporters of good food. This is your destination indeed.