The Hotel de la Playa, Mediterranean by nature
Playas y calas
Hotel de la Playa
Tel. +34 961 468 464
Offer description:
The Hotel de la Playa in Puebla de Farnals is a small and spectacular hotel. This establishment, which was conceived as a boutique, has everything down to the slightest detail. The Hotel de la Playa is a calm and serene place on the seashore, a quintessentially Mediterranean location.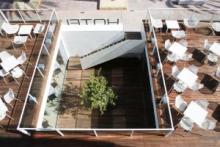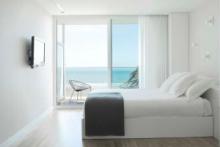 The two upper floors of the hotel host eight rooms and four suites, all of which have their own terrace with a view to the sea. The straight, white lines, the careful position of the mirrors that project the Mediterranean into each space, and the large window to access the terrace, which frame the sea like a Sorolla painting, are the defining features of all rooms.
Furthermore, the hotel has a restaurant that offers Mediterranean market cuisine, prepared from fresh local products. The menu offers season dishes and suggestions from the chef, including several magnificent rice-based dishes. To allow you to enjoy its fine cuisine, the hotel has a restaurant on the ground floor with a spectacular terrace facing the sea, where meals and breakfast are served, as well as cocktails at night. The warm cafeteria is the ideal place to spend a pleasant time around a coffee or a snack.