Restaurant L'Alter Picassent or the best paella
Gastronomía
Restaurant L'Alter
961 230 537 / 666 466 091
Offer description:
The food journalist Marc Bittman reported in The New York Times that the best paella he had ever tried was in this restaurant.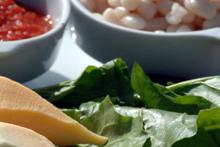 "The best paella I could find in the area was outside the city, in a town called Picassent". It is part of the chronicle of Marc Bittman American food journalist for The New York Times after appearing by surprise at Restaurant L'Alter. This happened in 2007 and, since then, nothing has changed: the authentic, the tastiest and genuine, born from the fires of this establishment managed by Pep and Carmina, grandsons of the founder Juliet paella.

In the Restaurant L'Alter can sample authentic specialized traditional Valencian cuisine, after more than 50 years of experience in all kinds of rice and grilled meats cooked on wood or simmered. To make the traditional rice with the recipe of their ancestors they only use orange and carob wood cut of a specific size and allowed to dry for one or two years. And control the rate of fire and flavored rice in a special way.

The Restaurant L'Alter has a main hall with capacity for 180 people and a private lounge with capacity for 90 people where you can hold events of all kinds. Also, you can learn their secrets in the numerous workshops firewood paella that they do.
Prices and more offers:
Start date: 12/09/2016
End date: 14/11/2016