Enjoy the silence in Hotel La Escondida of Penàguila
Ecoturismo, ocio y diversión
Segment:

Genérico
Parejas
Senior
Hotel La Escondida
96 551 30 46
Offer description:
As we travel to La Escondida, we are seduced by the small tracks we find along the way. The coast disappears from our sight being substituted by big and towering trees which turn and twist in impossible ways to remain firm in the difficult terrains next to the road.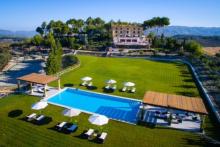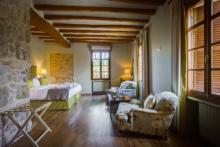 Hotel La Escondida is a fascinating, charming place on the high mountain of Penàguila. The difficult access way makes it more magic if possible. In front of us, a slightly stepped valley and on command the 500 hectares of finca. It is only 20 minutes away from the city of Alcoy and close to the Parque Natural del Carrascar de la Font Roja.

The building shows the traditional Arab architecture more than 100 years old. All the rooms are decorated in a chic and natural style and the different pieces of furniture have been designed and handmade especially for La Escondida with colours influenced by the countryside and olive trees surrounding the hotel. The kitchen has an exceptional team who offer delicious dishes using the best fresh ingredients and products of local producers.

Two swimming pools (indoors and outdoors), spa, golf, a great number of activities and… Enjoy the landscape through the big windows in the rooms, float in the blue sky and listen to the silence. Feel like?
Optional services:
Penàguila is a small village situated in the sierra de Aitana. There, we will be able to visit a centenarian garden moving later to an ethnological museum, going through "el portalet" or wander along the streets searching for peace. We do not forget about food, a good kitchen is waiting for us here, where we will taste the typical dishes from the mountain.