You deserve it: The Mediterranean Garden L'Albarda
Ecoturismo, ocio y diversión
Jardín Mediterráneo L'Albarda
963 523 099 / 638 320 631
Offer description:
Find your inner peace and relax with the sounds, fragrances, textures, shapes and colours of the garden of L'Albarda in Pedreguer (Alicante). Contemplative walks and sunsets for an unforgettable summer.

The Jardín de L'Albarda is a role model in the world of Mediterranean horticulture for its fantastic, botanical biodiversity. It is a garden of about 50,000 m² which opened its gates in 1990. More than 700 different species of native plants can be found here, in addition to the large collection of roses and palm trees. The garden is always open on every day of the year!

L'Albarda is a partly formal garden and wild garden at the same time. It is a reflection of the old Valencian Renaissance gardens influenced by Arab culture. The architectural aspects of a Renaissance garden are of great importance. Hiking trails, pergolas, shrines and fountains of great beauty that will take you back to the past.

During the months of July and August, you can also enjoy the "Atardecer Musical en L'Albarda" by the guitarist Marco Romero. An intense musical repertoire consisting of Spanish guitar pieces as well as classic pieces and more modern genres, which will round off your experience.

And if you'd like to relax, you should know that there are quiet exercises and walks planned with the sole purpose of discovering your senses, such as seeing, feeling, tasting and hearing in the consciousness of the here and now. Tempting, is it not?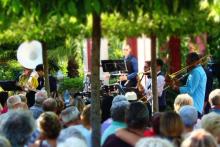 The property L'Albarda is located in the municipality of Pedreguer (Alicante) near the town of Denia. With its outstanding sea and mountain panorama and the picturesque old town, the hotel is lined with covered arcades where you can find traditional markets. Some interesting places are "Castellet de l'Ocaive", the restaurant "Els Porxes", "Santa Lucia" and "the capella de Sant Blai o els Molinets". You can also enjoy the beautiful landscape of Pedreguer using a hiking trail. Do not go before you have tried an "Esgarradet"!