New challenges with Sargantana Adventure in the Sierra de Espadán.
Turismo activo, ocio y diversión
Segment:

Familias
Parejas
Grupos jóvenes
Sargantana Aventura
622 72 43 43
Offer description:
Entertainment, sport, nature, friends, family, adrenaline. This summer design new challenges in the Sierra de Espadán with Sargantana Adventure. You will not be deceived.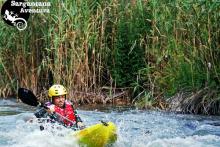 Sargantana Adventure is a company of active tourism and ecological tourism who offers a wide number of activities in the open air, with specialised materials and guides specialised who ensure at all times our security and entertainment.

A summer of experiences is waiting for us!

Speleology. Dare to go into the depths of the earth. We will stroll along grottos and labyrinths of galleries full of stalactites and stalagmites. Rappel down the top entrance to the cave, you will zip down completely hanged until you reach the centre of the grotto, an experience only for the bravest ones. There are some exclusive experiences like the aquatic speleology. Do you want to feel more adrenaline?

Cannoning. We will follow the course of a river, ravine or brook. We will row down the inner course visiting the ways which water has opened between the mountains saving the difficulties that she has manage to surpass. Rappel, hill walking, climbing and jumps or swimming will be necessary.

Kayak or canoe. The activity is carried out in kayaks which empty by themselves and which will not sink in any of the four modalities. Calm waters where navigation along the meander formed by the river Mijares as it goes by Ribesalbes. High waters where you will go over fast formed by the river itself the same river by the strait of the Pedrizas in Onda and finally, navigation by the reservoirs of Benitandús and Sichar.
Optional services:
Onda (Castellón) is known by the castle of the 300 Towers and the historical city centre declared World Heritage Site. The Sierra de Espadán, a big mountain range characterised by rugged crests and softer rounded hills. Rivers Mijares and Palancia, with diverse brooks, dry riverbeds or ravines flow into them. In these places, you can find the most extensive and best preserved cork trees forest in the Region of Valencia. There is so much to be discovered!