Camping Olé Oliva
Camping, playas y calas, actividades náuticas, ocio y diversión
Segment:

Genérico
Familias
Camping Olé Oliva
+34 96 285 75 17
Offer description:
Live unique moments in the sea. The beach of Oliva offers you a fine and golden sand and clean waters. The Camping Olé in Oliva gives you all you need for your unforgettable holidays.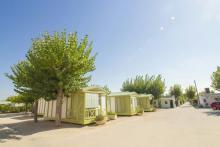 With a name like this is impossible to resist to it. The experience of camping is always a winning option to enjoy some days out in full nature; in this case very close to the sea, living with other families and with a slow and quiet rhythm which invites to total disconnection. Live some days only with the most necessary things and worry only about important things. There are so many advantages in the life in the camping.

The Camping Olé in Oliva has supermarket, laundry, and sanitary complex, station for caravans, children's playground, library and social room. It is situated near the sea and surrounded by nature in one of the most privileged zones of the Mediterranean. The pleasant climate, with cool summers and warm winters, invites you to enjoy the beach and the multiple appeals offered by the Costa Blanca during the 365 days of the year. Choose between a space facing the sea, in the tree area with pleasant shade, or enjoys of all the comfort of the bungalows.
Optional services:
Visit Olivaon your bicycle, thanks to the hire service for bicycles. The streets of the town keep traces of the history and offer samples of the customs. Beaches of fine sand, surrounded by natural dunes, make a barrier between the sea and the orange trees. Do not stop exploring and enjoy this beauty.