Travel to the Belle Époque at Villa Pilar
Ecoturismo, turismo rural, ocio y diversión, gastronomía
Villa Pilar Navajas
+34 629 476 252
Offer description:
At the entrance of the province Najavas, in the town center of a small mountain village, lies the Villa Pilar. An old manor which had been built in 1910 and restored in 1948. Stay in this summer residence of Valencian bourgeois.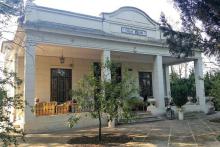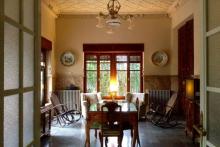 In the middle of a landscape garden of 1.700m² towers the Villa Pilar with its elegant architecture of strong walls, high ceilings with classical lines along its façade and explicit construction details, reminding of the art nouveau. Did you know that, when visiting the Villa Pilar, you dive into the era of the Belle Èpoque? Navajas has been the second residence of bourgeois families at the coast of the Mediterranean Sea. Here you will find an extraordinary accommodation, not only for its landscape, but also for its vast history.

The rooms are furnished to mirror the interior of the families formerly owning the manor. The ceiling, doors and windows were restored in a way that represents its former appearance. The Villa Pilar has five double bedrooms, a bathroom, a spacious dining room and the whole mansion is heated. Visitors share a communal lounge, just like families did living in the Villa, back in days past. The garden is a rich ecosystem with not only birds of a variety of specimen but also squirrels, pines, cypresses, palm trees, bamboo, fruit trees and a centuries old cedar majestically throning above the entrance.

Breakfast is served every morning and consists of products taken directly from the organic garden. Enjoy the workshops, excursions, games, concerts and theatre plays. All this is only a part of the activities offered in the Villa! Don't miss your chance!
Optional services:
Navajas (Castellòn) is a small, rural city of high cultural interest through its unique architecture of its mansions its hilly landscape around the river of Palancia. There are many hiking- and cycling-trails, like the "Via Verde de Ojos Negros" and astonishing landscapes like the waterfall "Salto de la Novia"