Saltapins, an adventure circuit in the trees of Morella
Turismo activo, ocio y diversión
Segment:

Genérico
Familias
Grupos jóvenes
Escolares
Parejas
Saltapins Aventura, Complejo Fábrica Giner
964 173 256
Offer description:
Saltapins is an adventure park in Morella, which has zip lines, Tibetan bridges, lianas and wooden platforms.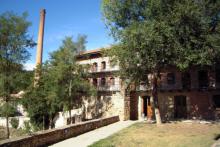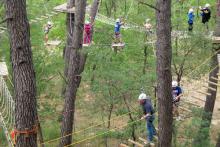 A circuit where you have to overcome different air tests installed on top of the trees by wire, zip lines of 100 meters, Tibetan bridges, lianas and wooden platforms? It is the dream of any child, a lot of fun, an approach to the worlds of Indiana Jones and the Ewoks. Saltapins is an adventure park located in Morella (Castellón), an invitation to adventure and imagination with the maximum of security involved.

It is located in the wooded area of ​​the complex of the Giner Factory and the goal it is that little ones have the opportunity to approach the mountain and nature and also acquire such positive skills such as dexterity, balance, confidence, resilience and the force. It is a very fun game but also an unforgettable sporting activity.

Saltapins also manages a fleet of mobile adventure, with the same attractions that Saltapins, and with the added advantage that it can be moved anywhere in Spain and the BTT Centre Els Ports moving through 37 routes and more than 900 kilometers to enjoy mountain biking. And also has a hostel, a rural house and a pool.