Enrique Mendoza Winery: wine as an experience
Gastronomía, ecoturismo
Bodegas Enrique Mendoza
965 888 639
Offer description:
Enrique Mendoza Winery has designed a wine route for visitors to learn about winemaking culture in La Marina Baja.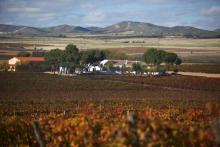 Wine in itself is an experience. This motto embodies what Enrique Mendoza Winery has been doing since the late 1970s. A passion for wine fueled the desire to found this winery, and over the years this passion has done nothing but grow. Today, Enrique Mendoza has two cellars: one in Villena and another in Alfàs del Pi. At the latter, a wine route has been designed for you to learn about all the intricacies of winemaking culture in La Marina Baja.

During this guided and customized visit, you will be introduced to the most important aspects of the Enrique Mendoza Winery: the birth of wine, its production process and its preservation followed by a wine tasting in the garden area where you will sample some of the best varieties paired with a delicious snack. This is an activity for everyone, from novices to expert winemakers. The visit and guided wine tasting are available in Spanish or English. Don't miss it!