Hotel Alahuar , warmth and elegance with a view of the Vall de Laguar
Turismo rural, ocio y diversión
Hotel Alahuar
965 85 02 00
Offer description:
The Alahuar Hotel Restaurant features 12 semi-detached villas, 7 of which have jacuzzi baths and all of which boast splendid views to the mountain, the valley and the sea.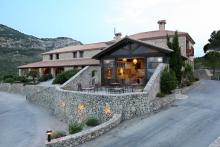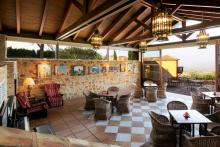 Located against the backdrop of a beautiful mountain landscape, the Alahuar Hotel Restaurant provides visitors with elegant and welcoming lodgings from which they can enjoy nature, peace and quiet, and local cuisine. Located at 500 metres above sea level, on the outskirts of Benimaurell in the inland Marina Alta region, this hotel towers above the entire Vall de Laguar, a stunning landscape that is bound to remain etched in your memory.

Every single detail in this hotel was designed to provide warmth to a complex that harmoniously combines natural stone, terracotta, ceramics and pine wood. The main building features eight large double rooms on the first floor. Moreover, it also boasts 12 semi-detached villas, 7 of which have a jacuzzi. Every single one of these villas is a call to the senses, with their open staircases that lead to the living room and balconies that offer splendid views of the mountains, the valley and the sea.