Restaurante Font de Sant Pere, at the foot of a natural park
Gastronomía, ecoturismo, turismo activo
Restaurante Font de Sant Pere
977 57 55 51
Offer description:
A place with a lot of history and tradition to enjoy good food in a unique environment within the natural park of the Tinença de Benifassà. The Restaurant Font de Sant Pere was an old mill and its cuisine is based on seasonal and local products.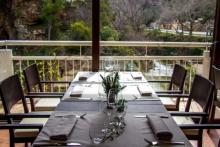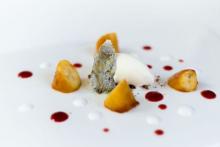 Lunch or dinner in a restaurant located in the heart of nature on the banks of the stream Sant Pere. A restaurant which was formerly a mill and; today, after refurbishing, it opens its doors with a renewed aesthetic, an attractive design and a cosy atmosphere, and most of all: a kitchen you are going to love. The Restaurante Font de Sant Pere is a perfect place to enjoy cuisine of quality while travelling through history and visiting the old mill which was found during the renovation of the premises. How are we going to miss this?
The menus of the restaurant feature fresh, seasonal ingredients. During fall, the mushroom menu provokes us with a tapa of sautéed chanterelles with garlic and parsley, coca de recapte with duck's liver, figs and mushrooms, creamy rice with chanterelles and ribs, cod confit, vine tomatoes, Grilled eggplant with vegetables and mushrooms, roasted saddle of rabbit with black mushrooms and freshly home-made cottage cheese from Los Puertos with chanterelles ham. What do you think of it?
Optional services:
The Ballestar is a village in La Pobla de Benifassà. Its tourism is 100% of nature because its surroundings belong to the Natural Park of the Tinença de Benifassà. The lushest and greenest forests in the Region of Valencia can be found here. It is a natural landscape of unparalleled beauty which will put a spell on you.