Go back to be boy in Hotel del Juguete in Ibi
Ocio y diversión
Hotel del Juguete Ibi
965 55 29 45
Offer description:
TheHotel del Juguete (Hotel of the Toy) is real, yes indeed. It is a fun and original accommodation, where children can live the experience to sleep surrounded by their favourite toys and the parents can live their childhood again.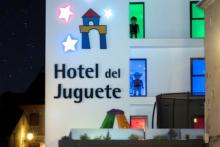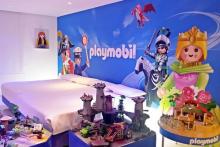 The Hotel del Juguete is an accommodation thought for children. There, it is possible to play and have fun in the rooms with the new characters and fashionable toys like Super Wings, Justin or Invizimals or with the good old-fashioned ones like Pin y Pon, Nancy or Playmobil mini-toys. Besides, they have three suite rooms devoted to The Three Wise Men from Asia offering a distribution adapted to the needs of the families.

The hotel is situated in Ibi city centre itself, a place known along with the neighbouring Onil and Castalla like "El Valle del Juguete"("The Valley of the Toy") because of the many factories from the main toy brands which we can find in here. It is the only hotel in Spain whose theme is around the toy. How exciting!

For those more active, they offer the Cultural Route. A route with a fun map where we will visit some theme parks for children and all great fun, the Museum of the Biodiversidad, the Museum of the Toy and other beautiful corners in Ibi which you have to discover together..
Optional services:
The places of Ibi (Alicante) reflect the typical ecosystems of the interior of the province and offer the opportunity try different routes. In the streets, you will appreciate the different architectural styles and the unmistakable scent of the Mediterranean. Besides, Ibi is a town where traditions, culture and sports have a prevailing place. And in a hotel which is the dream of any children. Can you ask for anything else?