Palau dels Osset, an elegant hotel from which to enjoy Els Ports
Ocio y diversión, turismo cultural, gastronomía, ecoturismo
Hotel Palau dels Osset
964 171 180
Offer description:
The Palau dels Osset Hotel is a 16th-century palace that has been fully renovated, preserving the extraordinary original woodworking of its doors.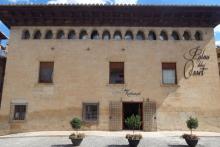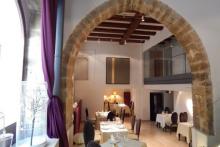 The Palau dels Osset is an elegant hotel located in the town of Forcall, in the beautiful, rocky region of Els Ports, in the inland part of the province of Castellón. This hotel is a renovated 16th-century palace with a large, 85 square metre hall in which the extraordinary original woodworking of the doors has been maintained. It features 16 different rooms with luxury decoration and furniture as well as a cafeteria, a restaurant and a spa with incomparable views that will allow you to enjoy an environment of silence, serenity and harmony.

Forcall is located in a valley overlooked by four flat-topped hills populated by a great wealth of fauna and flora, and surrounded by the rivers Caldés, Cantavieja and Morella, the three of which converge to give birth to the river Bergantes, forming a bifurcation, a feature that has most likely given the town its name (from forca, fork). The porticoes, stones, hermitages, squares and churches of this town will you take you back in history.