Elche Palmeral Aventuras, a park with a mark for real fun
Turismo activo, ocio y diversión, playas y calas
Segment:

Familias
Escolares
Grupos jóvenes
Otros
Elche Palmeral Aventuras
965 99 50 12
Offer description:
There are many places surrounded by palm trees but none as Elche Palmeral Aventuras, unique for its adventurer soul and its impressive staging.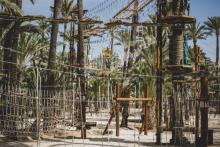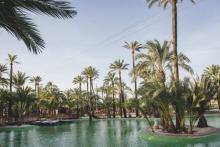 An adventure park full of activities and experiences where groups of all ages, families, schools and companies meet in a circuit designed especially for that; along with the fun and adrenaline, you will enjoy a fantastic day.
Can you imagine getting to the world's tallest tower and climbing 22 meters while your desire and your pride push you towards the top? Sailing a boat within a true oasis? All this is already possible! Let your imagination be the limit to your desire with an incomparable experience, because at Elche Palmeral Aventuras you have everything ready for you so that your levels of happiness climb up to the limit.
They offer you the opportunity to spend an unforgettable day in an environment of leisure activities, sport and adventure because the challenge is that your visit be full of good vibes; facilities and professionals who will help you throughout your visit to get the most of this incredible experience.
Optional services:
To further enhance the experience, the park is located in Elche, in the province of Alicante and capital of the region of Bajo Vinalopó. Its Mediterranean climate offers streets full of light and pleasant temperatures on every corner. It is surrounded by the wonderful beaches of La Marina, Los Arenales, El Altet, Santa Pola and El Pinet. Although the true charm it has is in the gastronomy and in their fellow countrymen, who are a real delight.