Font de Sis, the campsite from which to enjoy El Palomar
Camping
Camping Font de Sis
+34 677 579 034 / +34 677 579 035
Offer description:
In the beautiful natural landscape of Font de Sis se is an old washbasin, a fountain with six spouts and a lush poplar grove.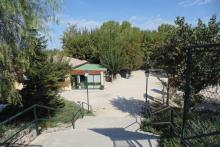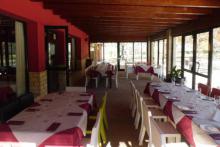 The Font de Sis campsite is located within the beautiful natural landscape that receive its name, in the town of El Palomar, in the Region of Valencia, where you will be able to enjoy the charm of the old wash basin, the six-spouted fountain and a lush poplar grove. From this place you can reach the local Barranc de Junda hiking trail. It is the perfect place to rest or to perform open-air activities, such as hiking or mountain biking. It is only 37 kilometres away from the beaches of Gandia.

The campsite is fully equipped and it has a children's playground with a zipline, a restaurant and restrooms that are accessible for people with limited mobility. Moreover, the facilities are open year-round. Near that is the "Castle and other treasures of the rural heritage of El Palomar Route", which offers breathtaking views of the Vall d'Albaida and the Benicadell mountain range, and which shows visitors the castle of Carrícola, the ice pits of Atzeneta, the lime kilns and ancient fountains.