Surfing in Cullera with Posidonia
Actividades náuticas, ocio y diversión
Segment:

Grupos jóvenes
Parejas
Genérico
Escuela Surf Valencia Posidonia
663 992 817 – 687 420 277
Offer description:
All your life wanting to learn to surf the waves and you do not find the place neither the moment. There are no more excuses, the School of Surfing Posidonia will prepare you to have great fun and it is opened all days of the year.

The Escuela de Surf Valencia Posidonia is a school situated in the beach Playa del Marenyetin Cullera, in the right part of the mouth of the river Júcar. The regular waves make it the best beach in Valencia to practice surf and paddle surf.

It is necessary to have a good technical knowledge to practice this. In the Escuela de Surf Valencia Posidonia, we will offer you a highly experienced team who will help you when necessary to enjoy this sport always under professional supervision of excellent quality. What do you need to start? Only your will, because in the school they have high quality material both for the courses and to be rented. Great fun (and laugh) is guaranteed!

But it is not only surf under the sun! It is also possible to enjoy different activities and other training than surf; like paddle Surf, mini ramp skateboard, volleyball, Frisbee, Pilates and long skate.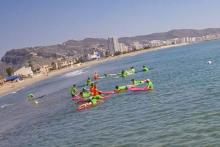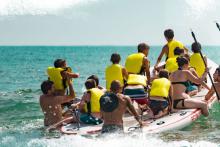 After the lessons, there is more fun waiting for you in Cullera (Valencia). It is a destination which will certainly impress you. The history, the traditions, the rich historical heritage, the natural surroundings where it is and the incredible beaches make of Cullera a perfect destination for public of all ages. Night or day, you are going to love every minute!