Holidays in Las Palmeras Resort in Crevillent
Ocio y diversión, ecoturismo, turismo rural, turismo cultural, playas y calas
Complejo turístico Las Palmeras
965 400 188 / 966 680 664
Offer description:
We go to a tourist complex of rural character situated in the heart of La Costa Blanca. A stone's throw away from the best Mediterranean beaches, from the thematic park Terra Mítica in Benidorm and from the airport of El Altet.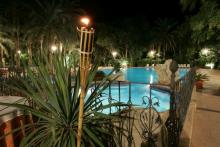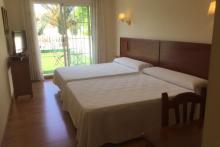 The tourist complex The Palmeras was founded in 1963 and since then, it has spread the facilities and services to become restaurant, café, bar, hotel, camping, swimming pools, catering and meeting point. It is formed by two central hotels in the town of Crevillent, rural houses and zone for camping and camping site.

The hotel Las Palmeras Resort is formed by 11 rooms with a full bathroom, plasma television, air conditioning-heating, wooden floor and laundry service. And for the lovers of Nature, there is a zone for camping and camping site or the rural houses. As you see, it is a perfect place to enjoy fresh air, if you like with a camping tent, or even in one of the bungalows or in a fantastic rural wooden house. If you travel with children, the complex has zones for their entertainment and monitors for the young ones during the summer season.

In the restaurant, Mediterranean classical dishes are offered, including paella, as well as an extensive selection of tapas. By the way, this is the perfect period to eat in the open air, among the pines! And afterwards, the space for relax is waiting for you with wide sofas with ideal natural sunlight to relax, read or enjoy the beauty of the landscape.
Optional services:
Wish summer will never come to an end! Plunge in the tropical swimming pool and when you recover strengths, off to Crevillent. The town has an ancient city-centre of Moorish flavour, with intricate streets and narrow sidewalks. The town is located to the foot of the mountain chain with the same name, a chain with plenty of attractive routes and ideal footpaths for the lovers of hiking and Nature.