A river cruise at Cofrentes
Salud y bienestar, ocio y diversión, turismo rural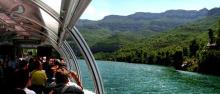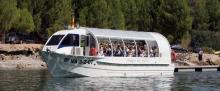 Come aboard the river cruiser and explore secret places in the mysterious Valle del Júcar-Cabriel. This environmental tour along the Júcar river takes you on a 14-kilometre route round the reservoir while you listen to commentary provided by professional guides, who know all about this beautiful area's history, plants and wildlife.
Optional services:
The impressive Cañones del Júcar river tour allows you to explore the spectacular countryside.
Prices and more offers:
It's an ideal outing for the whole family to spend a day exploring mountains and nature. Both adults and children will love this amazing river tour. The modern cruiser craft is fully and comfortably equipped, with easy access, including for wheelchair users.
Start date: 10/06/2013
End date: 30/11/2013