L' Escaleta, a unique experience
Gastronomía
Restaurante L'Escaleta
Tel. +34 965 592 100
Offer description:
The L'Escaleta Restaurant in Cocentaina is ascending towards the loftiest heights of gastronomy. The genius of chef Kiko Moya, the skill of Alberto Medrano and the work of the rest of the team have allowed L'Escalleta to shine on its own, as does its Michelin star.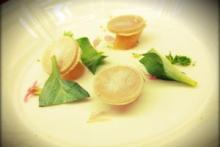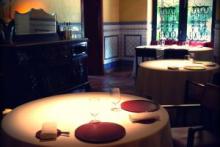 L'Escaleta, a town surrounded by pine groves, at the foot of the Montcabrer in Cocentaina, is the perfect location for one of the most outstanding kitchens in the Valencia Region. This cooking has evolved from tradition, reaching the most avant-garde trends in cooking and earning it a Michelin star.

Form and substance are the secret of the cooking in L'Escaleta. The substance is the exceptional products used and their impeccable manipulation; shape, on the other hand, is simply its perfect presentation. Avant-garde and tradition in gastronomy, and a splendid, intimate entourage conquer the body and mind of the most demanding gourmets.

Don't hesitate, if you want to live a unique experience, call for a reservation and give yourself a treat at L'Escaleta in Cocentaina. Dare to taste dishes such as rice with escargots, all i oli with fennel and herbs, roast artichoke hummus with artichoke chips and liquorice oil, or salted egg yolks. And don't leave without tasting its desserts, described as masterpieces, such as the tocinillo de cielo (egg custard), Supermousse or the Spirit of a bun. You'll feel as if you were in heaven..