Hostal Restaurante El Pozo. As in Chulilla, anywhere else
Turismo rural, turismo activo, gastronomía, ecoturismo
Hostal Restaurante El Pozo
+34 653 302 956
+34 679 059 751
Offer description:
In an Arrabal of the former suburb of the beautiful town of Chulilla, you will find the Hostal Restaurant El Pozo. A place where you will feel at home, with quality food and breath-taking views.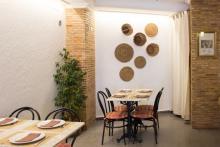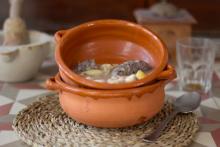 The Hostal Restaurante El Pozo Chulilla is located on a plot of the former suburb and offers magnificent views of the church and the castle. Another of its charms is that it preserves the well which gives name to the establishment; so, you can imagine the extreme care to details.
The restaurant offers traditional typical dishes, with grandmother's recipes, cooked for many hours over a low heat. All dishes are cooked using seasonal vegetables, most of the times brought from their own vegetable garden, and the meats are from local butchers. In the evening, the menu is thought for dinners with friends, to share and to try different dishes. And as a golden end, treat yourself to one of their homemade desserts.
Optional services:
In the heart of the mountainous area of Valencia, on the slopes of a medieval castle; there, it stands the village of Chulilla. Thanks to its excellent climate and environment, it invites you to outdoor activities and to enjoy nature. It is the ideal place to disconnect from your routine.
As an old sign-post from the 80's reads at the entrance of the village: "Landscapes and wine, in Chulilla, divine".