Casa del Médico, a rural house among landscapes and monuments
Turismo rural, ecoturismo, gastronomía, ocio y diversión
Casa rural Casa del Médico
628 67 29 46 / 646 57 51 85
Offer description:
Stay in a house situated in the royal villa of Castielfabib, inside the region of the Rincón de Ademuz. This is a singular spot in Region of Valencia, but separated geographically from Valencia, which is situated between territories of Cuenca and Teruel.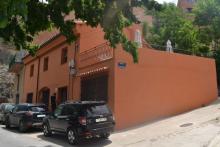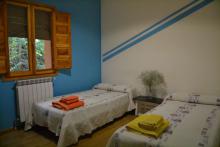 The location of the rural house Casa del Médico has something a special charm. Away from Valencia and situated between Cuenca and Teruel, the municipality of Castielfabib and its people have singular features. The rural atmosphere, the nature and the traditions have been conserved from ancestral times and it is a privilege to enjoy them live in front of you.

Casa del Médico offers a familiar environment, friendly and comfortable, with a total of 15 places of accommodation possible to make up to 20, distributed in 4 rooms with individual bathrooms. Surrounded by forests of pines and thousand-year-old sabines, valleys with fruit trees and esperiegos apple-trees autochthonous from this region, rivers where the trout, the blackheads and the crabs live in harmony with some of the cleanest clear water in the Spanish peninsula.

Right there, we are offered the possibility to hire sportive activities in the zone, with professional guides, like hiking, descent of aquatic and dry ravines, vias ferratas, climbing, taking courses of survival activities, camping at night in the open air in a construction under the stars.
Optional services:
The rich landscape of Castielfabib (Valencia) is only comparable to the peculiarity of its traditions as it is the human turning. The orography made its neighbours adapt their houses to the gradient and slope, what today offers a lovely image of a staggered municipality. Its ground is formed, in addition to the municipality, by five small villages which are dotted by vegetation which has found in this spot in Rincón de Ademuz an exceptional place. A destination out from a fairy tale!