SkyTime, it is time to jump in Grao de Castellón.
Turismo activo, ocio y diversión
Segment:

Genérico
Grupos jóvenes
Parejas
Centro de Paracaidismo SkyTime
964 288 595 / 605 920 380
Offer description:
Autumn must come loaded with experiences. We promise to tell you about great experiences to close 2017 in style. Do you entry your first jump?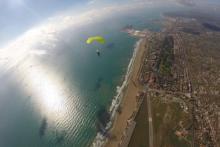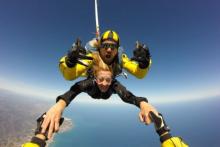 Grao de Castellón. SkyTime Centre for Parachuting. Our adrenaline begins to go up. Jump from a plane at 4000 meters height with the best views from the sky of the Costa Azahar!

This centre and school of high international recognition is devoted to the education and development of sportive parachuting. With them we will use the more modern learning skills and materials available at present.

The activity, full of strong emotions, must be carried out in a safe way. With the professional crew from SkyTime, we are in good hand and the magical ambience will wrap us from the beginning. 'The Yeti' is the plane which they have permanently 365 days a year, a Pilatus Porter B2 H4 with 10 places for jumpers plus the pilot. Its capacity and rapidity thanks to its powerful turboprop engine of 680 shp provides an amazing fluency for the parachuting activity. It goes up to 4000 meters height in only 20 minutes! Also, in winter period they have a Cessna Caravan Blackhawk with 15 places for jumping plus the pilot.
Optional services:
SkyTime Skydiving is only 50 meters from the beach of the Gurugú. The exclusive location which it has offers us wonderful aerial views to enjoy the jumps. From the sky we will be able to see both the beaches and the nature reserves which surround Castellón.