Escape from routine in the Camping L'Orangeraie de Càlig
Camping
Camping L'Orangeraie
964 765 059 / 667 609 264
Offer description:
Castellón, a charming place. In a privileged enclave between the sea and the mountains, we can find the Camping L'Orangeraie overlooking the sea. Enjoy the Mediterranean essence with its wide plots and stone-wall terraces surrounded by bushes, citrus fruits and millennial olive trees.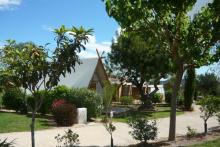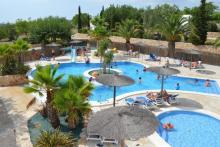 90 and 100m2 green plots with grass surrounded by bushes. Mobile homes surrounded by 130 and 150m2 of hedges. Their size is perfect for 4/6 people and they are equipped for making your stay comfortable. But you can also look for accommodation at Eco-Tipy! Any possibility is good when one is on holidays and looks for a family and relaxing environment.

But not everything is about resting. Enjoy the summer activities as if you were a child. In July and August, activities for children are organised. Aquagym, BTT circuit, playground, water slide, hydromassage, Flamenco shows… You will not have the chance to be bored!

Camping L' Orangeraie is located in the Azahar Coast, close to the calm village of Càlig, which offers picturesque festivities. You will be fascinated if you go hiking or BTT riding among the orange trees and millenary olive trees.

The campsite's location offers plenty of possibilities. Seven kilometres away, Benicarlóis located. There you can discover its fishing port and its beautiful beaches. Thirteen kilometres away, you can find Peñíscola, the city of the sea, with its Templar castle dating back to the beginning of the 14th century and the residence of Papa Luna (Benedict XIII), the second most visited monument in Spain. And twelve kilometres away, you can find Vinaròs. It is a medieval village with many shops located in its pedestrian area that is also famous by its gastronomy; its speciality is the prawn. Going inland, you will follow the medieval route along the mountains until Morella.

This is everything that is awaiting at Camping L'Orangeraie in Càlig!