Discover a new perspective with Totglobo
Turismo activo, ocio y diversión
Totglobo Bocairent
629 611 889
Offer description:
When someone talks about the things he still wants to do in his life, one way or another, one thing is often forgotten: flying in a hot-air balloon. An experience in the heart of nature that combines emotion, serenity, relaxation and being one with nature.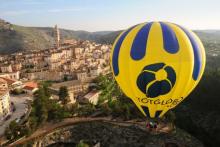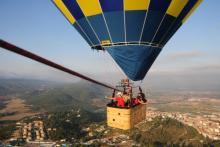 Flying in a hot-air balloon is a dream that many haven't lived yet. Totglobo offers us a possibility to enjoy a pleasant "walk in the sky" in a place of absolute beauty as for example in the Parc Natural de la Serra de Mariola. Feel the wind, look at the beauty of the sunrise between the mountains of this mountain range.

The flights start very early to take advantage of the good wind conditions. At 7:3,0 am you will leave from Bocairent (Valenica) and from there the vehicles of Totglobo will take you to the take-off area which is defined by the wind conditions. After blowing up and preparing the balloon is lifting off! You will be airborne for at least one hour. Flying with a hot-air balloon means relaxing, especially if the destination is unknown.
Optional services:
Enjoy a good lunch in Bocairent after landing. The village has a special appearance, the streets tell a centuries-old story and the area has an enviable landscape thanks to the Sierra de Mariola. Many buildings and monuments have been built into rocks – even today! That is why this village is also known as the "village hewn in rock". You must see that!