Adventure in Benidorm with Marco Polo Expeditions
Turismo activo, ocio y diversión, playas y calas, actividades náuticas
Marco Polo Expediciones
965 863 399
+34 655 879 711
Offer description:
Each day is an adventure. And this is true, so Marco Polo Expeditions waits for us in Benidorm have a great time in the Costa Blanca, its natural territory. Come join in!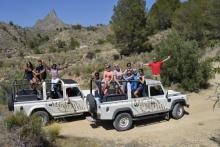 Marco Polo Expeditions is a company devoted to Jeep Safari holidays, paintball, bicycles and scooters rental, hiking on the mountain and guided visits, only to mention some of the activities they offer. In this proposal of activities, we intend to give you ideas to enliven your days and do things which you have never before thought of. For example:
Land based activities. There are a lot of options, but we will highlight those which have called our attention. A route in 4x4 vehicles under the moonlight, a horse-riding excursion, initiation to Nordic walking or stroll in Segway.
But there is much more. An original way to discover the zone in a little time is definitely from the air. Before your flight begins, the pilot will propose you a "plan of flight" and you will be able to flight over cliffs, beaches or rugged ravines.
And if you prefer water activities, you can fly like a ray on the water with aquatic motorbikes and discover hidden and lovely places. Or join in Coasteering. meaning "to do coast" and consisting in moving to the wildest coast of the zone and go in and go out of the water jumping, swimming and climbing the rocks. It does not require a special physical preparation and it can be done all year long thanks to the soft climate of the Costa Blanca.
Optional services:
And of course, enjoy Benidorm. Beach, sun, gastronomy, culture, party, joy… The list is long and besides they live in a never ending summer.