Paddle Surf Tramontana, thousands of reasons to go stand-up paddleboarding in Benicàssim
Playas y calas, turismo activo, ocio y diversión
Segment:

Grupos jóvenes
Familias
Genérico
Paddle Surf Tramontana
677 879 566
Offer description:
Culture and entertainment coexist peacefully in Benicàssim, one of the most charming towns in the Valencia Region.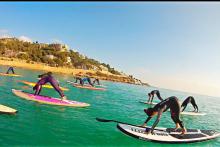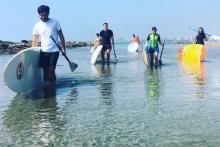 Why go stand-up paddlesurfing? Because it strengthens every single muscle in your body in a non-aggressive fashion by keeping your entire body active while you keep your balance on the surfboard; because you are in contact with nature, with the sea, with the sun, with the wind, because it is therapy for the soul; because you can enjoy this simple sport with your entire family; and because it is a way to have fun, to have a great time and to make the most out of your stay.

These motivations are the motto of Paddle Surf Tramontana, a surfing school located in Benicàssim, a town in the Region of Castellón that fulfils all of the ideal conditions to perform this sport and where culture and entertainment, relaxation and hustle and bustle coexist harmoniously in one of the most charming towns in the Region of Valencia.