Aquarama, water and entertainment to the big
Ocio y diversión
Segment:

Grupos jóvenes
Parejas
Escolares
Familias
Aquarama Benicàssim
902 99 87 11
Offer description:
Aquarama is always a good plan to have fun both big and small, the aquatic park of Benicàssim with more than 45.000 square meters of entertainment for all the family.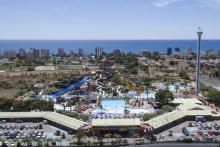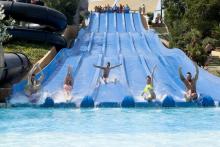 If we think of its rides, we have to point out the thrilling "Jump of the Devil", the higher kamikaze slide in Europe with a fall of 30 meters in an angle of 62º. Also the daring "Space Shot", a simulator of a space takeoff which will take us to see the clouds. Which will you try?

Aquarama is ideal for the whole family as the small ones have their own recreational areas in "The Cala of the Pirate", "Minidunas" and in "Chiquilandia". And for the older ones who are looking for relax, there is a possibility even it you may find it unlikely. Go next to the wave's swimming pool or to the place of "The Lagos".

And finally, a detail which will boost your appetite. Aquarama is said to prepare the best goffer in the world. Elaborated following the original Belgian formula and the traditional process, that requires patience and affection. You will have to taste it!
Optional services:
If you feel like to complete your experience in Benicàssim,dare with the route of the villas that goes by the maritime walk and that will move you back in time to the Belle Époque and to the moment when the tourism of lords was at its peak at the end of the 19th century and beginning 20th. On the gastronomic side, fish and seafood, roast meat, casserole, paellas and other preparations of rice will help us recover our strength. You cannot leave without testing the famous "Licor Carmelitano", made by the monks of the Desert of the Palms.