Mar Blava, Gastro & Lounge in Benicarló
Gastronomía
Restaurante Mar Blava
693 75 35 84
Offer description:
Disconnect, set free and relax while you have lunch or dinner, with some views over the blue turquoise waters of the sea inPlaya Xica in Benicarló. Come inside, Mar Blava is more than a restaurant. It is the place where you can spend hours appreciating the good things in life.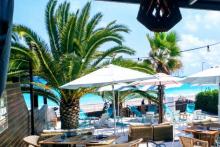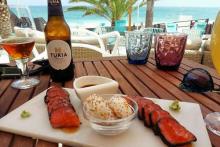 Eat under a sunshade, near the sea, with your beach clothes and flip-flops. Have dinner with your feet in the sand, under the light of the lantern lamps while you listen to the waves' move. The restaurant Mar Blava offers you comfort and fresh local products, innovative recipes, a quality service and lovely views to the sea.

Among the many delights in the menu, we have to point out one which will make your mouth waters if you are a meat lover. Boneless ribs cooked at a low temperature with reduction of honey and French fries which are a real success in restaurant Mar Blava.
Optional services:
In Benicarló,you can visit buildings like the House of the Baroness, in Renaissance style and Historical Artistic Monument where we find nowadays the facilities of the City Town Hall; the Archaeologic Museum, the Church of Saint Bartolomé, the hermitage of Sant Gregori, the Iberian settlement of the Puig, the Convent of Sant Francesc, the Casa Bosch or that of the Marquis of Benicarló, without leaving out the chapel of the Crist de la Mar, very near the port.