Wonderful sunsets overlooking Benicadell
Ecoturismo, turismo cultural, ocio y diversión
Casa Rural Terra Blanca del Benicadell
+34 658 118 161
Offer description:
Benicadell's Terra Blanca Rural House is located in the village of Beniatjar. Its name refers to the land's colour in most of the region. The origin of its name, "Vall d'Albaida", etymologically comes from the Arabic /al-baydà/ ¨white¨ and the mountain range at the feet of which it is located. This 150-year-old house is completely restored and features every service needed.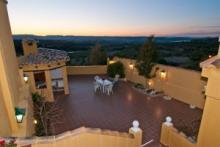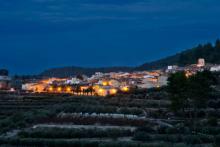 The house, with a surface of 185 square metres, has two floors with 4 double rooms and a triple room. It is rented as a complete non-shared accommodation. All the rooms have a gambrel roof; the house has wide terraces with furniture and a barbecue grill as well as excellent views to the valley.

Beniatjar is located in the Vall d'Albaida region. Some of the recommended plans are visiting the snowfield on Benicadell's top, Covalta's archaeological site, the cave paintings, Carbonera castle and enjoying the aroma of numerous sweet-smelling plants.

Behold the Benicadell in the Terra Blanca Rural House and do not miss the fantastic sunsets.