Restaurant La Claudia in Altea.
Gastronomía, playas y calas, ocio y diversión
Restaurante La Claudia en Altea
965 84 08 16
Offer description:
La Claudiais a stylish ancient house with tiled floors renewed with a retro influence and a wide top which includes a creative kitchen. This restaurant is located in Altea and it is said to be one of the essential ones.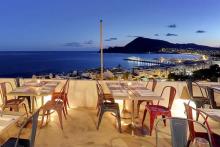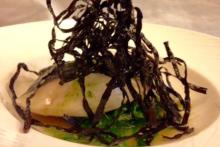 Right in Altea old town centre, between the viewpoint to the bay and the square of the church, we find La Claudia restaurant, a cosy designed place, with a modern ambience and a kitchen of high quality. With a very creative kitchen, through the first quality products, with ingredients and spices of diverse cultures seasoned with the salt and the light of the Mediterranean, in La Claudia they obtain a unique mixture of flavours, capable of surprising us.

Let's have more details. Between the starters, we can recommend the octopus marinated with causa limeña to wasabi flavour or the ceviche of sea bass with green apple. The hake to low temperature, with scampi infusion and sea spaghetti are some other samples of the different preparations they are proud of. But the menu offers a wider choice: rice dishes, meats, fish and desserts.

Two details which make it even more charming: the linen is cotton thread handmade by the network of rural women of Yataity -Corá - Paraguay. And if we talk about the views. Oh Lord, what views!
Optional services:
La Claudiais one of the places where to enjoy the Mediterranean alive. And Altea is one of the most beautiful municipalities in The Region of Valencia. With the blue and white dome of the local parochial church, the municipality spreads over a hill finishing in the same Mediterranean itself. Small and beautiful coves and beaches follow one another in a coast full of the same white charm we find in the town centre.