Mar de Fulles, a native paradise between the sea and the mountains.
Turismo rural, ocio y diversión, gastronomía, salud y bienestar
Hotel Albergue Mar de Fulles
+34 964 090 965 / +34 669 211 569
Offer description:
The ideal destination for the lovers of the ecotourism exists. Mar de Fulles is a hotel which springs from deep in Nature, with 160.000 m2 of centenarian forest to his feet. And it is also a hostel, perfect for group escapes.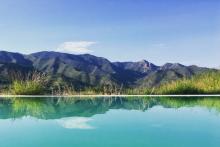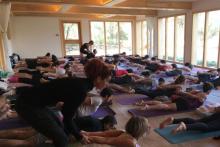 In Mar de Fulles, in the Middle of the range of Espadán (Castellón), we are guaranteed a 100% natural experience. The building is sustainable in itself, with energetic autonomy, its own ecological orchard and products of fair trade as well as from local producers. But this is not everything. Clay, wood, stone and limestone are materials which will provide a peaceful staying.

Travel and eat no matter what is not possible here. Take care both of your mind and your body with this proposal of a trip. Its ecological orchard offers fruits and delicious vegetables, picked one by one by the chefs, who - in the open kitchen – will carefully prepare healthy dishes.

Terraces and pathways along almond tree fields draw a route called "Arbolado Singular", a footpath which visits the surroundings of the hotel with more than 30 secret corners. Mingle with the peace and the tranquility of the leaves, of the trees, of the forest.

In La Vall d'Uixó you must visit Coves of Sant Josep, the longest navigable underground river in Europe.