Music in the Monastery of Sant Jeroni de Cotalba
Turismo cultural, ocio y diversión
Monasterio de Sant Jeroni de Cotalba
619 524 093
Offer description:
Watching art and listening to live music is possible. We have already arrived at the 10th edition of the festival of concerts "Music to the Monestir de Sant Jeroni de Cotalba 2017" with a very complete programme and with diverse trainings of recognized prestige.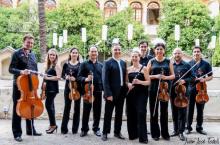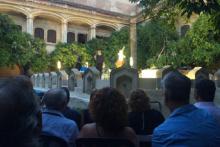 Cuerdas de acero, Polina Zizak Quartet, Esencia Lírica with the soprano Silvia Vázquez and the pianist Carles Budó, Capella of Ministrers and Javier Botella & AP Big Band will act during the months of July and August in the festival "Music al Monestir de Sant Jeroni de Cotalba".

The Monastery of Sant Jeroni of Cotalba is one of the most remarkable and better conserved in Region Valencia. It is situated in Alfauir (Valencia), eight kilometers from Gandía, and it was founded in 1388. Universal Valencian writers like Ausiàs March or Joanot Martorell, the family Borja, Saint Vicente Ferrer and the Renaissance painter Fray Nicolás Borrás, among others, strolled between the walls of the Monastery. It is considered a true cultural and spiritual center.
Optional services:
If you want to discover it with all luxury of details, you have to take a guided tour. Some of the things to which you have to pay attention are: entrance court, Gothic tower, Orange tree court, mudéjar cloister, ancient church, chapter room with the image of the Virgin of the Health, the almazara with the fresco of the Father Borrás, the refectory, silo, winepress, stables, the ancient kitchen of the monks, the impressive romantic gardens and the Gothic aqueduct which surrounds them. And besides, complete the visit with a stroll around the Upper Cloister of an extraordinary beauty with its polychrome painted Gothic sculptures, following to the Door of the Lions and to the Room of Arms of the Monastery

More than 600 years of history and art are waiting for you in natural surroundings of incredible beauty!