La Safranera, a rural farmhouse that is the friend of cyclists
Turismo activo, ocio y diversión, ecoturismo
Masia La Safranera
639 68 17 17
Offer description:
La Safranerais a farmhouse that was originally built in 1900 and which has been brought back to its former glory, located in the Cascarrar de la Font Roja Natural Park, in Alcoy.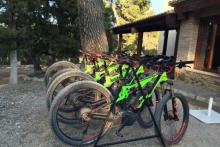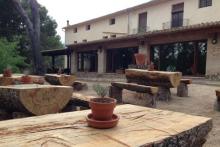 Would you like to stay in a restored building from the year 1900 in the Cascarrar de la Font Roja Natural Park, one of the best-preserved natural spaces in the Region of Valencia? You can live this unforgettable experience in La Safranera, a rural hostel that features eight double rooms with bathrooms, five rooms for four to six people, and two rooms for nine people. It also features a restaurant, a bar, a sports track, a swimming pool, a disco and a parking lot.

The farmhouse is located in the middle of nature. Perched at a height of 800 metres above sea level, it is very popular among bicycle tourists, as its facilities are suited to receiving customers with bicycles. Moreover, they also have information on the trails around the Font Roja Natural Park and, moreover, it is currently in the process of becoming a "bike friendly" lodging. In the near future, a "bike parking lot" will be added to the facilities. Regardless of whether you are a bicycle enthusiast or if you wish to take a break in a beautiful natural environment, La Safranera is an outstanding option.