Hotel with charm Masía la Mota
Turismo rural, turismo activo, ocio y diversión, gastronomía
Hotel con encanto Masía la Mota
+34 966 540 370 / +34 600 281 925
Offer description:
Are you looking for a hotel with charm? We have it! The Hotel Farm La Mota is situated close to the Natural Park of the Font Roja,in a privileged zone with sights of big beauty. Continue reading to enjoy the complete experience.

An old mansion 5 kilometers from Alcoy (Alicante) refurbished and rebuilt. The hotel Masía La Mota is located between the natural parks El Carrascal de La Font Roja and la Sierra de Mariola. Can you imagine the views? Its ten double rooms decorated in a very personal way, some with views to the outside and other with views to the beautiful inner playground, are endowed of all the necessary equipment for a pleasant stay.

From its facilities, you can start walking routes along the different footpaths in both parks and inside the estate itself. You can go walking crossing part of the Vía Verde (Green Road) to down town in Alcoy, where you will be able to enjoy an enormous gastronomic and cultural offer.

In the hotel, we have to point out the tranquility and the natural and wild surroundings which give it a unique position since it offers an extraordinary environment rich in flora and fauna. You will be able to practice hiking and Nordic walking by the surroundings of Alcoy, birdwatching, caving and mountain biking.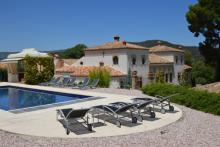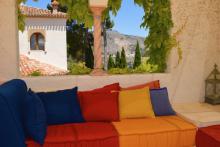 In Alcoy (Alicante), you will find a Heritage of the Humanity: the paintings of La Sarga. The municipality is renown like the city of the bridges, included in the "European Route of the Modernism" and in "the Route of European cemeteries". Come discover why Alcoy is an interesting destination!