Casa Bons Aires
Ecoturismo, turismo rural, gastronomía, turismo activo
Casa Bons Aires
+34 660 666 768
Offer description:
A small hotel, only for adults, where to disconnect and enjoy silence and nature. Alcoy is waiting for us!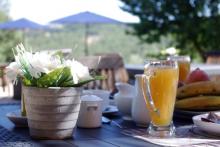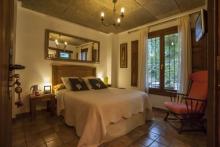 Casa Bons Aires is a rural hotel situated in the city of Alcoy between two natural parks. Briefly, in the middle of a paradise. It has three standard double rooms and a superior double room fully equipped and with in-suite bathroom. The living room has heating, a small library, board games, chimney, honesty bar and information from the zone to prepare your break. The kitchen of the hotel is based on market products elaborated home-made style with fresh local products. Charming breakfasts charm and romantic dinners!
Being such an idyllic place, you can imagine the views. The terrace of Casa Bons Airs gives us some wonderful views over the Natural Park Saw of Mariola and to the saltwater swimming pool. Besides, if we are looking for sports to do, this hotel is ideal since it supposes the starting point to go hiking in the Natural Park de la Font Roja or in the Natural Park "Sierra de Mariola". We only have to choose what we want to do. There are different intensity level routes and it is also a good place for mountain bike lovers.
Optional services:
Alcoy possesses an important historical legacy. The modernist architecture together with traditions of international recognition make of it a city worth discovering. His singular artistic heritage is included in the European Route of the Modernism and we recommend you visit his cemetery, which makes part of the European Route of Cemeteries. An interesting and different plan.