In Alcossebre, relax in L'Espígol Bistro
Gastronomía, playas y calas, ocio y diversión
L'Espígol Bistro
+34 600 04 75 68
Offer description:
A new meeting point in Alcossebre. A place where you can enjoy a fun gastronomic offer and a really original selection of drinks. Don't miss out the view from your terrace.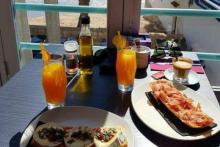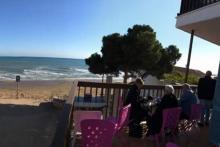 This proposal brings us to Alcossebre. L'Espígol Bistro is a place with an incredible terrace, where you can taste delicious combined, cocktails, beers, wines, cavas, frappes, cafes and an impressive craft beer on tap. In the gastronomic level, this establishment offers well thought proposals to enjoy a relaxed dinner with friends, family meals or romantic evenings under the moonlight. Its menu includes cold meats and cheeses, salads, cold creams, healthy sandwiches and snacks, accompanied by the specialty of L'Espígol Bistro: savoury or sweetwaffles.
Relax in the most exclusive place. Sitting on the terrace, you will feel time has stopped. We are not surprised, the incredible views, from the height of the Cargador beach and the promenade of Alcossebre are a gift for the senses. Really friendly atmosphere, good music and the best surroundings: we have them all, without any doubt!
Optional services:
Alcossebre stretches from the mountains of Irta and Murs, a large extension of land of floodplain until you reach the sea and its beaches. Alcossebre is one of the most inviting places on the coast of Castellón. The beauty of its surroundings, lined with natural protected forests, beaches of fine sand and coves and a carefully designed urban plan makes it a perfect destination.